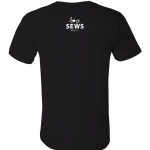 Buy a shirt and help us reach our goal!
We need YOU! Please help us reach our goal of providing 250 individuals facing challenging life situations with a quilt to wrap up in and get a "Hug from Jesus."
Love Sews Ministry
for Direct expenses to make the quilts.
Love Sews' mission is to make and provide custom quilts to those facing challenging life circumstances, in hopes of creating strength, hope, and a little bit of joy for the recipients. We are a Christian non-profit organization that works with individuals who are facing difficult times. Quilts represent life…a story that is often mismatched; they bring comfort when ill, warmth when cold, security when alone, and most importantly, a constant reminder of the love and care sewn into each square on it's way to becoming a quilt…a hug from God. Quilts have always represented timeless art, most often displayed on walls. The wave of modern quilting has shifted into the philosophy that quilts should be completely functional and continually used. Quilting for a cause creates a binding group of people sharing the same passion and devotion for helping those in need. This enriching experience is gratifying for both the quilters and the recipients.